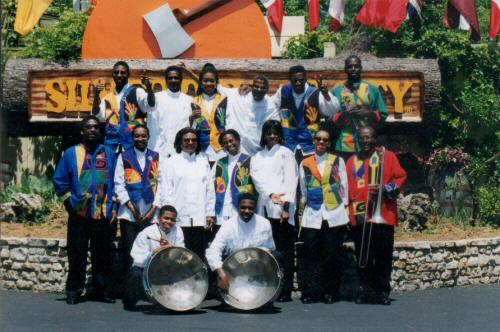 It is with great pleasure that we introduce you to the ensemble, "SADIKI - Stiks on Steel" from Trinidad & Tobago, the home of the steelband and the land of calypso and limbo. The name SADIKI, which means faithful, was taken from the Swahili language. The musicians have together well over 50 years of musical experiences. The group was formerly known as "Flabej" and has been in existence for the 10 years.
The early beginnings of the steelband instruments are from the drums of the African slaves and the beating of bamboo sticks for rhythm. Today, the steelpan is the only acoustic percussion musical instrument invented in the 20th century.
The SADIKI ensemble is dedicated to excellence in the presentation of their musical performances for all audiences. Their stage productions include voice, dance, and other conventional instruments. A SADIKI concert explores the music of the world. The ensemble plays a variety of music on the steel pan, including calypso, reggae, folk, European classical, jazz and pop.
The traditional music of the Caribbean Islands is the core of its repertoire. The SADIKI ensemble seeks to give a further definitive expression to the music of the region which includes calypso and reggae. While SADIKI is faithful to the music of the Islands, the ensemble also embraces the music of its Latin neighbors.
SADIKI comprises fourteen members, 13 musicians and one limbo dancer and they are recognized for consistently high standards of performances at "World-Fest" held at Branson, Missouri, USA. It is America's largest international festival and attracts over 200,000 people annually. April 2002 is the group's eighth appearance at this festival and for the past three years appeared as SADIKI. Four years earlier, they performed under the name of "Flabej."
The SADIKI ensemble has performed in the United States of America, Europe, and Japan and throughout the Caribbean and has recorded the CD Sadiki Stiks on Steel.