A First for Boston -
Celebrity Series Caribbean PanFest at Boston Symphony Hall
with Panazz Players with Guest Arturo Tappin, saxophone & Ken "Professor" Philmore
PANAZZ PLAYERS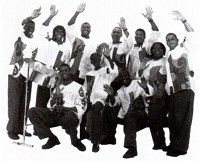 Panazz is the leading small band ensemble in Trinidad and Tobago, the island which gave birth to the steelband. Led by their arranger, Barry Bartholomew, this exciting 14-member band has captivated audiences with their musicianship and flair for spontaneity and showmanship.
There is a tremendous rapport among the players, whose technique and dynamics are absolutely superb. Indeed, solo performances by all the players betray a musicianship which reflects the talent of some of the best players in the land.
Four-time winners of the prestigious Pan Ramajay competition for small bands in Trinidad and Tobago (the first time playing as Potential Symphony), Panazz is a title derived for Pan and Jazz, and expresses the musical interest of these young musicians who have a flair, not only for the indigenous calypso of the island, but especially for the jazz idiom.
Internationally, Panazz has most recently participated in the BankBoston Celebrity Series at Symphony Hall in March 1997. Prior to this, Panazz performed for the United Nations in Japan in November 1996. Other performances include World Travel Market Exposition at Earl's Court, London in November 1995; the Africa in April celebrations, Memphis, TN in April 1996; and Pigeon Island, St. Lucia for the 1996 Jazz Festival. The band performs continually for several corporate organizations and other gala events.
Their first album, entitled Steel Pan Music, is pan at its very best, from the jazzy rendition of Bizet's semi-classical Carmen to a Latin version of Aldwyn Roberts' calypso Iron Man, as interpreted by Ramsey Lewis and Raf Robertson respectively, two of the band's favourite musical artists.
The second CD, newly released, is entitled Panazz Live, and was recorded at the band's annual concert in Trinidad at Central Bank Auditorium. It captures the spontaneity of a live performance and audience interaction.
Panazz performed for TIDCO at MIDEM in Miami in September 1997, where for the first time MIDEM showcased Caribbean and Latin American music. From this performance, Panazz secured a contract and performed at Epcot Center in Disney World. The band has been described by the Barbados Advocate as " a veritable potpourri of musical gems".
Panazz… something special in pan.
Arturo Tappin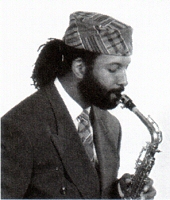 Once described as a cross between Teddy Pendergrass and Kenny G, Arturo Tappin is definitely the smoothest, saxiest horn man the Caribbean has to offer. He has been busy kicking his solo career into high gear with his roots reggae-jazz fusion. His dynamic live performances and charismatic idiosyncrasies on stage have been the reason why he is known throughout the region as the musician's musician.
His first album, Strictly Roots Jazz, was recorded in 1994 during a three day jam session with friend and music wizard Dennis Bovell (along with Bovell's "Duh Band") while on tour to London. Shortly after this he recorded his second album Java, both of which are licensed to Pioneer Records in Japan thanks to Dermott Hussey.
The release of these two albums in combination with his reputation for putting on explosive shows led him to perform at the Edinburgh Jazz Festival, Soho Jazz Festival, Miami AT&T Caribbean Jazz Festival, St. Lucia, Antigua, Curacao, St. Vincent, Grenada and Barbados Jazz Festivals. He also appeared at the Stockholm Water Festival in Sweden, Pan Ramajay in Trinidad and Tobago, the Bahamas Musik Festival, St. Kitts Music Festival, Bob Marley Birthday Bash (negril & Kingston), Reggae Sunsplash in Jamaica, Montego Bay Jazz & Heritage Festival and Miami Reggae Festival.
Arturo has played and/or recorded with many major artists / groups including Red Rodney, Milt Hinton, Monty Alexander, Ernest Ranglin, Jacky Terrason, Roberta Flack, Courtney Pine, Al Harewood, Roy Haynes, Ellis Marsalis, Oliver Jones, Doc Cheatam, Pete King, Mutaburuka, the Wailers Band, Third World, Mikey Bennett, Dennis Bovell, Jazz Jamaica, Sandra Cross, Gary Crosby, Eddy Grant, Panazz, Robbie Greenidge, Luther Francois, Bongo Herman, U Roy and Dean Fraser.
Arturo attributes much of his success to one of his former tutors at Berklee College of Music, Bill Pierce (Art Blakey and the Jazz Messenger), Uncle Flombe Mosley, parents and manager. This support was the kindling which ignited his burgeoning career.
Ken "Professor" Philmore
Ken Philmore is from the island of Trinidad and Tobago, birth place of the steeldrum. "Professor" is one of the top steeldrum soloists in the world. His fascination with the steelpan began when he as only four years old. At the age of fifteen, he joined the Hatters Steel Orchestra to develop his skills as an arranger and player. On one of his early visits, a member jokingly remarked "who is this young kid with these old fashioned glasses?", referring to his bone-rimmed spectacles, "he looks more like a 'professor' than a pan player". This is an alias which Ken proudly carries today and aptly suits this gifted young musician. In his first year with Hatters, he was selected for a tour to Minneapolis.
One year later Ken began writing arrangements for the group. As time progressed, his talents as player and arranger were so impressive that by 1982 he became musical director at one of the nation's most prestigious steel orchestras. In ten years, le led them to six championships. In 1985, "Professor" did his first album, Our Heritage, which features a mixture of his version of jazz classics like Mr. Magic and Stardust, together with pan instrumentals of some popular calypsos. He was requested to play for Queen Elizabeth II on her visit to Trinidad and Tobago that year.
Since 1987, Ken has produced eight albums, Pan Calypso, Love in Steel, Pan Jamboree, Pan By Storm, Pan Ecstasy, Pan in the Party, All Night, and Graduation. His performing schedule constantly takes him back and forth between the USA and Trinidad. "Professor" has performed and recorded with a number of international artists such as Ella Fitzgerald, Nancy Wilson, Tina Turner and jazz great Lionel Hampton.
Ken "Professor" Philmore has been honored by the ruling steelpan association, Pan Trinbago, as the most outstanding musical arranger. In New York he received a special award for his contribution to music by Mayor Koch. Following successes in Los Angeles and New York, "Professor" was invited by Mercer Ellington to join the prestigious Duke Ellington Orchestra for their tours to Europe and North America. On their 1990 album, Music is My Mistress, Ken was a featured soloist. Outstanding live performances continue unabated – 1991, 1993 Washington D.C. Pan Jazz Festival; 1992, 1993 St. Croix Jazz Festival; 1993 Atlanta Jazz Festival; 1997 Barbados Jazz Festival, among others.
The "Professor" is now a musical giant in his homeland, the US and Europe. Young pannists and arrangers try to imitate his style. His impact on the pan arena has been nothing short of phenomenal and there are audiences yet to be exposed to his unique combination of dexterity and soothing runs on his "steel piano", as he calls it. The genius continues to blossom.
Excerpts from the Program
Click on a thumbnail to see the larger image
and use your Back button to return to this page: