Reading And Book Signing,
Saturday, June 26, 2004
The Caribbean SUNSHINE Awards™ will join the Brooklyn Public Library to launch a new book, From the Horse's Mouth, written by Dr. Hollis "Chalkdust" Liverpool. The reading and book signing will take place on Saturday, June 26, at 1:30 PM at the Caribbean Literary and Cultural Center at Flatbush Library.
Kanchan Gilfillian, freelance writer, explains that the book "gives us an intimate look at some of the personal trials and triumphs of the creators and exponents of calypso, in the context of their individual development as performers and in the broader context of society at large. It is a behind-the-scenes look at the world of calypso through the eyes of those calypsonians that were and are an integral part of the development and evolution of the art form."
Dr. Kimani K. S. Nehusi, Professor at the University of East London, calls the new book "a masterpiece of scholarship, insight and impressive research", which "unfolds to the world the life, skill, craftsmanship and talent of the veteran calypsonian."
The Master of Ceremonies for the afternoon will be Dr. Charles Green, Professor of Sociology at Hunter College and a lecturer at CUNY Graduate School and University Center.
From the Horse's Mouth
Stories Of The History And Development Of The Calypso From The 1920's To 1970's
Hollis "Chalkdust" Liverpool, Renowned Calypsonian, Professor And Historian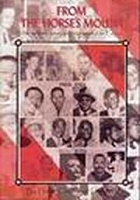 eCaroh Price: $25.95
Review
"A noteworthy book for all classes and persons, especially those entrusted with the education of our children." Winston Albert-(De Alberto), School Teacher and Guidance Officer, London, U.K.