Track Listing:
Aap Jaisa Koi Meri
Real Unity (Original)
Real Unity (Club Mix)
Real Unity (Snip It)
Lick Down Mih Nani
Roll Up The Tassa
Tassa Waaly
Now Ja Waan
Sweet Tassa Man
Hotter Than Ah Chulha
Real Unity is beautiful and inspiring. It is a combination of timeless melodies - the rhythm of soca and the melody of chutney.
The relentless power chords of soca artist Machel Montano and the soft tones of chutney singer Drupatee Ramgoonai have been combined to produce this Carnival 2000 hit.
Drupatee Ramgoonai & Machel Montano
Chutney Soca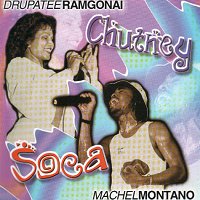 eCaroh Price: $15.95
See also:
Xtatik - Heavy Duty
Drupatee Ramgoonai - Dekho Lawa
Drupatee Ramgoonai Explosive Moods
Drupatee's Down in Sando
Machel Montano - The Book of Angels
Machel Montano and Xtatik - B.O.D.Y.
Machel Montano - The Xtatik Experience