The Signal Hill Alumni Choir performs their unique arrangements of "longtime" and current calypsoes. They breathe new life into the works of Terror, Roaring Lion, Kitch, David Rudder, Merchant, Tobago Crusoe, Black Stalin and Shadow. Track 15 brings the Bajan Invasion giving us One Caribbean Voice.
Umbayaya
One Caribbean Voice
Home Sweet Home
Soca Jam
Pacro Water
Caroline
Celebrate African Woman
Rudder Medley
Rainorama
Soca Ambassadors
Poverty Is Hell
One Caribbean Voice (alt)
Caroline (alt)
Celebrate African Woman (alt)
Bajan Invasion
ONE CARIBBEAN VOICE
Signal Hill Alumni Choir
Folklore Calypso
Read review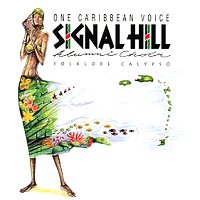 eCaroh Price: $15.95
Pleasantly jaunty is about the best way to describe Signal Hill Alumni Choir's One Caribbean Voice. In this their fourth CD — others are Xmas Coming (1987), Xmas Coming Sequel (1988) and Seasons (1992) — the Tobago-based folk chorale is customarily smooth, their instruments, pan.
In particular, adding sweet accompaniment. And they've selected a wide range of music: like Soca Jam, a medley of last year's party hits, including Ronnie McIntosh's Ent; Third Bass's High High; 3-Canal's Blue; and Big Truck by soca superstar Machel Montano. Despite the pace changes, the songs flow smoothly and professionally, typical of a choir which was last year awarded a Hummingbird Gold Medal. Other popular and well-known tracks include Umbayaya, Rudder Medley, and Caroline. I found it hard to swallow the impersonation of Shadow by one of the basses in the theme song,One Caribbean Voice — and in the choir's take on Shadow's Poverty Is Hell. We already know he isn't Shadow, so why the attempt? And I was sorely confused when, in trying to follow the order of the tracks, I realised they were printed in incorrect order on the back cover. Nevertheless, musical director and composer of two of the songs (One Caribbean Voice and Soca Ambassadors) John Arnold has done a decent job. If you're looking for a CD to keep your guests politely chipping at your soirée, this is it. [MH - Caribbean Beat]