The word KOROKWA is of Arawak origin and means 'To Remember'. The group KOROKWA had its inaugural appearance at the highly praised performance 'In Remembrance' at Sidewalk Cafe in June of 1998. The group believes that the reinterpretation and preservation of our folk arts is an important part of the self-awareness and strengthening of the Guyanese people. It is important for the folk heritage to be preserved and embellished so that future generations can have some idea of their roots and origins.
Korokwa has produced its first CD entitled 'Folk Guyana Style' under the direction of its Musical Director, Deryck Bernard, Dean of College Arts at the University of Guyana. The recording highlights new arrangements of old folk specials such as 'Sancho', 'Uncle Joe' and 'Me Na Dead Yet' . It also features folk style music by Hylton Hemmerding, Roland Phillips and Ramjon Holda.
The recording was made at the Kross Kolor studios in Georgetown where Birchmore Simon did the mastering.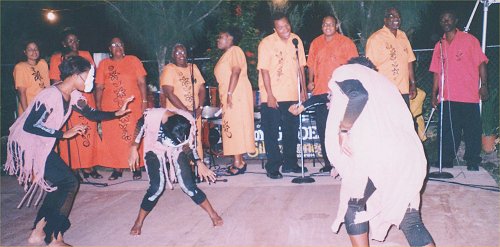 Korokwa Profiles
Phillip Adams - Tenor / Counter Tenor
Kenya Addo - Alto
Ultra Anthony - Alto
Deryck Bernard - Tenor - Baritone; 12 String Guitar, Vocal Arrangements
Andrea Collins - Soprano
Elizabeth Daniels - Mezzo Soprano
Dawn Duke - Soprano
Meighan Duke - Soprano
Terrence Fox - Bass - Baritone
Richard Francois - Tenor; Acoustic Guitar
Dawn King - Alto
Melanie Kirkpatrick - Soprano
Twydale Matinborough - Mezzo Soprano
Andrea Mentore - Alto
Juliet Moore - Soprano
Al Creighton, drums
Kurleigh Lowe, keyboards/ synthesizer, joined the group for the recording.