International Soca Monarch 2005 - the People's Choice Awards of Soca!
This is indeed and without question, the biggest soca event in the known universe - International Soca Monarch!
Unlike other world monarchies, the ruling Soca Monarch is selected by democratic process, not by blood line. So while no one knows when Prince Charles will ascend to the throne, everyone knows for sure that we will have a new Soca Monarch before the end of the night. And he or she, will be selected by the people, for the people, for a Carnival Saturday early morning coronation.
Soca is another product of the culture-synthesizing monster known as Trinidad Carnival. Born out of the mind-altering identity crises of the seventies, hip, groovy and solid; peace and love, power to the people, Soca is a unique combination of the island's indigenous music, calypso, with the Indian rhythms of Trinidad.
A free-flowing. exuberantly sensual, louder and more danceable potion - soca rhythms have driven over three booming decades of party culture.
In 1994 the International Soca Monarch Competition was started. This gave a new generation of soca artistes an arena in which they could compete on their own terms, with their own audiences and rules. The music was made to make people move. And that's how this competition is judged and won. You move the people, you move up.
Carnival 2005
International Soca Monarch
The Caribbean Prestige Foundation for the Performing Arts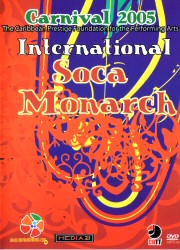 eCaroh Price: $24.95