A Scrunter most of us have never heard. Seventy minutes of mostly Calypso and a bit of Soca with Latin rhythms intertwined. Imagine, no one can't imagine ... you have to hear the Latin horns in Woman On De Bass.

Another Scrunter "must have" recording produced in 2002.
Track Listing
1.

De Jumbie
Medley
2.

Woman On The Bass
3. Sing In She Party
4.

Oil In De Coil
5. The Will
6. Doh Jam Dis
7. Sugar Bum Bum
8. Judith
Medley
9. Crapaud Revolution
10. Party
11. Lick E Ting
12. Take De Number
13. Mr. DJ (Hot So)
14. Camina Baila
15.

Shame and Scandal
16. Tanty
17. Pan On De Moon
18.

Gimme Ah Break
19. Judith (Remix)
20. Tanty (Remix)
21. Mavis G String

Scrunter
A Treasure to Behold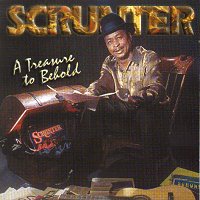 eCaroh Price: $15.95
Irwin Reyes Johnson, better known in his homeland of Trinidad as Scrunter (a sobriquet which deserves a whole song of explanation but which essentially means "someone who is hard up and hustling to make ends meet") is a multi-talented, living legend. His music will soothe your soul and tickle your funny bone as surely as his food will fill your belly and titillate your palate. Besides being a famous hunter and "wild meat" cook, Scrunter is the uncrowned king of Parang Soca (a fusion of the Spanish-derived music played during Trinidadís Christmas season and fast-paced modern calypso) who can be relied on to produce a Christmas anthem heavily seasoned with humorous and sometimes scurrilous double entendre. A Treasure to Behold presents Scrunter the calypsonian singing his Latin- and zouk-flavoured compositions, including such classics as Woman on de Bass, Oil in de Coil, Crapaud Revolution, Camina Bailar, along with his version of Lord Kitchenerís all-time masterpiece Sugar Bum Bum. This is music to savour open-fire-roasted opossum to. Vegetarians and vegans can cut straight to the dance floor. (SL/Caribbean Beat)